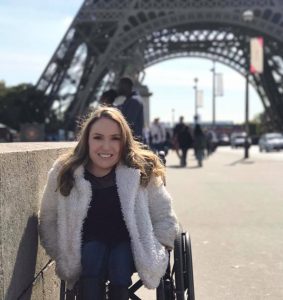 Individuals with SA/CRS can travel the world.  (information from http://www.transitionsabroad.com/listings/travel/disability/internationalprograms.shtml )
AFS Intercultural Programs, www.afs.org. Offers exchanges for high school students and educators to a variety of countries and has experience accommodating participants with a range of disabilities.
Council of International Programs (CIP), www.cipusa.org. Brings mid-career professionals from around the world to the U.S. for practical training in fields such as human services, education, law, non-profit management and public administration. CIP welcomes participants with disabilities and representatives of disability organizations and also arranges homestays with families that have members with disabilities. Scholarships are sometimes available.
CIEE: Council on International Educational Exchange,300 Fore St., Portland, ME 04101; 1.800.40.STUDY or 207.553.4000; info@ciee.org, www.ciee.org. Offers study and teach abroad programs in many countries around the world and encourages people with disabilities to apply. People with various disabilities have participated in CIEE study programs in Australia, Brazil, Spain, Thailand, etc.
Cross Cultural Solutions, www.crossculturalsolutions.org. Coordinates 1-12 week volunteer and internship programs in ten countries worldwide, and encourages people with disabilities to participate.
Global Explorers, www.globalexplorers.org. Global explorers designs educational expeditions for groups of middle school, high school, and college-aged students and their educators. Each adventure emphasizes leadership, culture, service, and science. International destinations include Peru, the Arctic, Costa Rica, Mexico, and Tanzania.
Developed in partnership with world-renowned blind athlete Erik Weihenmayer, the Leading the Way program is individual-enrollment and open to students of all physical abilities, ages 14 to 21. Summer 2010 destinations include the Grand Canyon and the Maya Yucatan in Mexico. This program challenges and prepares students to act on the passions they discover.
Institute on International Education (IIE), www.iie.org. Provides information on international study, language and internship opportunities. IIE assists thousands of individuals annually on exchanges, including those with disabilities, and produces numerous exchange-related publications and an online financial aid/scholarship database. It also administers the Fulbright, Freeman Asia, Gilman and other grant programs that have been awarded to students with and without disabilities.
IESabroad offers education abroad programs in over countries worldwide for college level students. Scholarships available for students with disabilities.
International Studies Abroad provides college level study abroad programs to destinations worldwide, and opportunities for volunteer, internship, independent enrollment and high school programs.
Peace Corps, www.peacecorps.gov. Facilitates long-term volunteer service opportunities throughout the world. Many people with disabilities have been Peace Corps volunteers.
Rotary International, www.rotary.org. Offers youth exchange programs, college level scholarships for study and language study overseas, and exchanges for teachers and mid-career professionals. People with disabilities have participated in the past and are encouraged to contact their local Rotary Club to apply.
Scuola Toscana Firenze, www.scuola-toscana.com. Provides Italian language and culture courses located in the center of Florence, offering courses in small groups for beginners to advanced speakers. Teachers offer a complete program of activities, from art excursions to wine tasting. Wheelchair accessibility with ramps, ground floor access and EU-retrofitted facilities. Located in the historic section with wider streets and near accessible hotels and the railway station.
SERVAS/U.S. SERVAS Committee, info@usservas.org, www.usservas.org. Links travelers with hosts in many countries with the hope of building world peace through understanding and friendship. SERVAS encourages people with disabilities to join, and it has a prepared listing of accessible and semi-accessible homes with hosts able to accommodate travelers with mobility disabilities.
U.S. Department of State, Bureau of Educational and Cultural Affairs, exchanges.state.gov. Promotes mutual understanding between the U.S. citizens and people from other countries worldwide through academic, professional and cultural exchange programs and activities. People with disabilities receive fellowships and are encouraged to participate in its programs.
Volunteers for Peace, info@vfp.org, vfp.org. Offers over 3000 short-term international community service workcamps in 90 countries worldwide for people from different backgrounds and countries to volunteer on projects together.
Wilderness Inquiry, www.wildernessinquiry.org. Organizes a wide variety of canoe, sea kayak, dogsled, rafting, horse pack, and hiking trips in Africa, North America, Oceania, and other regions of the world. All trips include people with and without disabilities working together to make the outdoor adventures open to everyone